Customised packing slips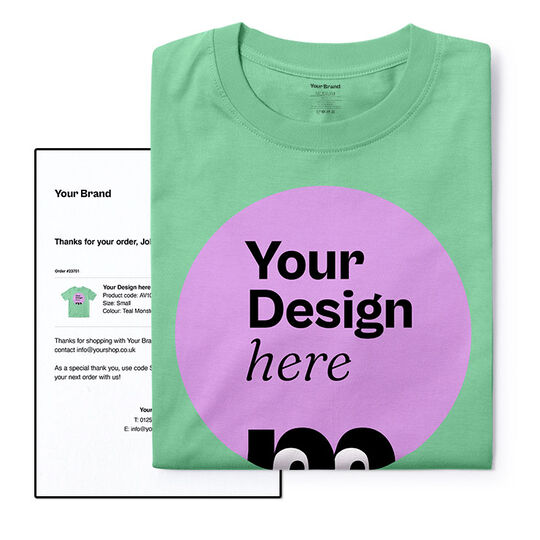 Set Up and Use of Branded Packing Slips
We know you want every single order to be packaged and delivered professionally and with care.
It makes such a difference to customer satisfaction doesn't it. If your customer feels you care about them and the product, they are much likely to buy again and recommend you to others.
Packing slips are one element of customer care. They reinforce your brand identity, ensuring you look professional, and provide all the information the customer needs.
Setting up your branded packing slips with Pivotal Prints is free and we print them on heavy weight, recycled paper so they look amazing.
How to add your branding and customise your packaging slips
Adding your brand identity to your packaging slips is very straightforward and only has to be done once. You also add customised messaging and any discounts you may want to offer as an incentive for the customer to return to your shop.
If you are integrating a store with our software, or have already done this, then we will use the store's brand identity automatically.
If your brand is not connected, then you will need to upload your logo.
Here are the step-by-step instructions to create your customised and branded packing slips. It will be worth keeping these instructions to hand as you go through the steps.
Step One:
Log into your account, if you are not already.
Step Two:
Go to the Brands page. HERE
Step Three:
Select Add New Brand.
Step Four:
Enter your company or store name in the Company field.
Upload your logo (if it has not been pulled through from your store automatically).
Then click Create.
Step Five:
The Brand Preferences page will now be loaded. This is where you
add any content you would like on your branded packaging slip
choose the packaging slip from a range of design templates
upload any DTG labels
upload a brand sticker (COMING SOON)
Customer Service Contact Details:
We recommend you provide one, or more, ways in which your customer can contact you, should they need to. Email is a great way so that you have a written record of communication, but feel free to use whatever is the best way(s) for you.
We also recommend you provide an address for customers who need to return a product for any reason. If the information is already on your website, then you may not feel it necessary, but its great customer service to have all the information in one place.
Please note: Pivotal Prints can not receive returned items on your behalf.
If you are not happy using your personal phone number on your packing slips, we would recommend taking a virtual number which is directed to your mobile. Circleloop.com is just one company who provides this service at a low monthly cost.
Packing Slips:
This is where you can change a number of features to suit your brand identity and brand messaging. You can also add links to social media and messaging platforms.
Brand Colour: You can choose your brand colour from the colour block, or you can use your own HEX code. If you have a number of colours in your brand colour suite, we recommend choosing darker, over a lighter colour, as the packaging slips are printed on white paper. The colour you select here will be the main colour used on the slip.
Custom Title: This is where you can add personalisation to the packaging slip. For example, you may want it to say something like "[username], thank you for your order." You can't personalise the packaging slip anywhere else, so this is a really nice touch.
Custom Message: If you have a business strap line, or a quote you like to use, you could add that here. Or you could provide a little more information about your brand… ask for a review… or anything else you think would be useful for the customer to know.
Featured Message: This field is really intended for you to share a discount code to encourage repeat business. If you do use this, then please remember to activate the code you use in your store for when they enter it!
Social Username: Choose the platforms you're on and give your link so that people can connect and follow you.
Step Six:
Save your changes.
upload a brand sticker
Head up to the top of the page and click the Packaging Slip Template tab.
Here you can view everything you've entered and uploaded and select which template you feel fits your brand best.
Once you've chosen the template you want to use, please remember to click 'Save Changes'.
That's it, You're done
You can change any of the above at any time. Changes take effect immediately so please note the new packing slip would be used for any orders already placed, which hadn't yet been despatched.